At Risk: New York's Future as the World Financial Capital
The Partnership for New York City released the first comprehensive report on New York's financial services industry since the 2008 financial crisis. The report, prepared by the Partnership with GLG (Gerson Lehrman Group), details industry status and trends in terms of its contributions to jobs, tax revenues and economic activity in New York City and suggests what will be needed to maintain the city's position as the global financial capital.
---
At Risk: New York's Future as the World Financial Capital
---
In conjunction with the release of the report, Kathryn Wylde, President & CEO of the Partnership for New York City, published an op-ed in  The New York Times highlighting key findings.
CONTRIBUTION TO THE CITY'S TAX BASE
The financial services industry directly employs 310,000 New York City employees, supports one million jobs in the city, and contributes about $8 billion annually to the city in taxes.
A MAINSTAY OF THE CITY'S MIDDLE CLASS
About 71% of financial services employees live in the five boroughs, pay New York City's personal income tax and comprise a vital segment of the city's middle class.
THREATS TO NEW YORK'S PREEMINENCE
Among the largest employers there is both global downsizing and a growing trend to move jobs and business operations out of New York City to lower cost, more business-friendly locations.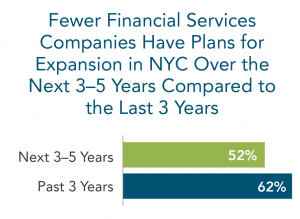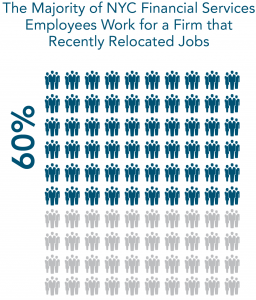 Absent public actions to address high costs, high taxes, aging infrastructure and a hostile political and regulatory climate, the global institutions that directly or indirectly employ more than a million New Yorkers, mostly in lower and mid-level jobs, will shrink its New York City presence, with serious consequences for the city's economic and fiscal health.