CHALLENGES
Recent data confirms a troubling trend: in New York City, people's economic opportunities continue to be strongly influenced by their race, gender and parents' income. Gaps in basic academic proficiencies begin in elementary school, having significant impacts on future career outcomes and earnings. In particular, black and Hispanic students are less prepared to pursue careers in high-paying fields such as STEM than white or Asian students. A quality education is integral to unlocking economic opportunity for the city's residents and shrinking the unemployment gap.
OPPORTUNITIES
At the beginning of April 2020, New York has just over 160,000 unfilled jobs, many of which require a post-secondary education. To close the skills gap, the public and private sectors need to work together to provide continuing education for teachers and ensure that curricula meet the demands of the modern workplace. We are working with the public sector and our members to bring industry expertise to every level of education. 
Our Work in Education and Workforce Development
PROGRAMS
Career Discovery Week
The New York City Department of Education and the Partnership for New York City partnered to launch the city's first-ever Career Discovery Week. Over 180 of the city's major employers joined forces to build a bridge from the city's classrooms to the world of business. Thousands of tenth graders gained a better understanding of the future job opportunities available to them as they spent a day at company worksites, learning about the city's varied industries and wide-ranging career possibilities.
Learn More
PROGRAMS
Career and Technical Education (CTE) Industry Scholars
The Partnership collaborated with the Department of Education to develop a demonstration model of how intermediary organizations can play a more meaningful role in the CTE delivery system. This new structure engages nonprofit intermediaries to help scale employer commitments to internships and other work experience opportunities for new and existing CTE programs. To date, over 3,000 high school students have been placed in internships aligned with their course of study, working with more than 600 employers across eight industries.
ADVOCACY AND PARTNERSHIPS
Mayoral Control
The Partnership has been a leading advocate for mayoral control of the city's public education system, which was enacted in 2002 and has been extended twice. The data confirms that mayoral control led to a better managed system and improved student achievement. Just three years after mayoral control was enacted, the public high school graduation rate has increased from 46.5% to 73.9%, and from 38.8% to 68.8% for black and Hispanic students. 
ADVOCACY AND PARTNERSHIPS
Multiple Pathways
The Partnership was a key advocate pushing for the New York State Board of Regents to establish multiple pathways to graduation for high school students in 2015. These multiple pathways encourage career-oriented studies and give students a practical skill set to help prepare them for college and the workforce.
ADVOCACY AND PARTNERSHIPS
Career and Technical Education Task Force
In 2008, Mayor Bloomberg made career and technical education (CTE) a citywide priority and established a mayoral task force to recommend ways to improve CTE. The task force was co-chaired by former mayor David Dinkins and New York Life chairman and Partnership Board member Sy Sternberg. Key recommendations included new CTE initiatives in high growth industries, engaging business to define sector-specific skills, and expanding work-based learning opportunities. These recommendations have largely been implemented and CTE students are out-performing other students when it comes to graduation and other indicators.
ADVOCACY AND PARTNERSHIPS
Computer Science for All
The Partnership has supported the Computer Science for All (CS4All) initiative since its inception in 2015. CS4All is a joint initiative by City Hall, the New York City Department of Education and the private sector, led by Fred Wilson of Union Square Ventures, that will ensure that all New York City public school students will have the opportunity to learn computer science by 2025. By 2025, nearly 5,000 teachers will be trained in how to bring computer science education to their classrooms.
The Partnership leads and supports many cross-sector industry groups focused on improving talent pipelines, access to technical education and computer science, and supporting school communities for essential services.
The introduction of mayoral control has helped to close the achievement gap between New York City students and their peers in other public schools across the state.
December 2019
Read report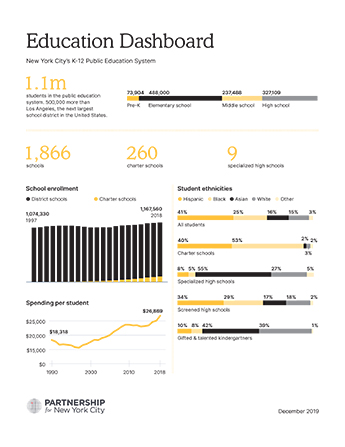 October 24, 2019 Business Insider
September 24, 2019 Harvard Business Review