CHALLENGES
In recent years, median income has been on the rise while unemployment reached record lows and poverty rates declined. Nonetheless, there are still great disparities based on race, gender and educational attainment. Corporate leaders recognize that moving the needle on some of the most entrenched drivers of poverty requires intervention on a scale that no single company can achieve.
OPPORTUNITIES
Members of the Partnership for New York City devote significant resources to addressing key drivers of inequality, strengthening the local community and to ensuring that business success benefits society. Employees also place increasing value on businesses' commitments to society: 76% of millennials report considering a company's social and environmental contributions when deciding where to work. Key areas where the Partnership seeks to expand opportunities through collective corporate action are education and entrepreneurship, coupled with civic engagement of its members' 1.5 million employees in New York.
Our Work in Civic Engagement and Corporate Responsibility
PROGRAMS
Career Discovery Week
The New York City Department of Education and the Partnership for New York City partnered to launch the city's first-ever Career Discovery Week. Over 180 of the city's major employers joined forces to provide a full day of programming for 6,000 tenth-grade public high school students who learned about future job opportunities available to them. Students, teachers and the companies involved overwhelmingly agreed that this should be an annual event where students can be directly exposed to the city's wide range of industries and career opportunities.
Learn more
PROGRAMS
David Rockefeller Fellows
The David Rockefeller Fellows program provides a civic leadership development opportunity for senior business executives from Partnership member companies. During the 12-month program, executives nominated by their CEO participate in a series of meetings with leaders from government, business, and the nonprofit sector to learn how the city works and how problems get solved. Alumni, of which there are currently over 400, become part of the expert network that supports the Partnership's policy and program objectives.
Learn more
PROGRAMS
Corporate Social Responsibility Network
The Partnership convenes cross-industry thought leaders in Corporate Social Responsibility (CSR), Philanthropy, ESG and Human Resources for roundtables and working groups to identify CSR priorities and make recommendations on collaborative initiatives in areas such as education, workforce development, diversity and inclusion, and entrepreneurship.
PROGRAMS
Every Vote Counts
In October 2019, the Partnership launched the most comprehensive  survey of the city's private sector employees. The results indicated that the employees of Partnership member companies want to be more involved in local civic affairs. In response, the Partnership has launched a civic engagement initiative, "Every Vote Counts", to activate and educate private sector employees on how to make a difference in their local communities.
The Partnership leads and supports many cross-sector industry groups focused on empowering the next generation of diverse leaders, promoting citizen participation in government and providing financial counseling to people with disabilities. 
The following document, produced with the help of Oliver Wyman, identifies areas where Partnership members can work together to expand educational and economic opportunities for all New York City residents.
December 2018
Read report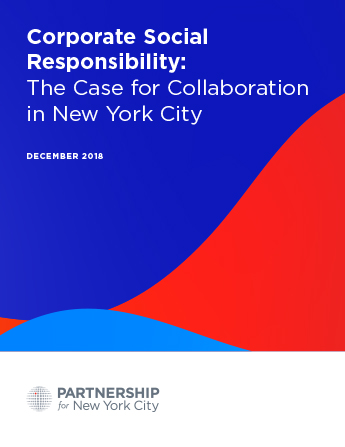 January 17, 2019 The New York Times