CHALLENGES
The COVID-19 pandemic has underscored and exacerbated racial and socioeconomic disparities. As a result of the pandemic, the city's unemployment rate is nearly twice the national average; small businesses owners are struggling to compete in a digital economy; and accessing affordable housing and quality health care is increasingly difficult for lower income New Yorkers. Corporate leaders recognize that moving the needle on some of the entrenched drivers of inequality requires intervention on a scale that no single company can achieve.
OPPORTUNITIES
Partnership member companies and their employees invest significant resources and expertise in programs and projects that benefit the residents and disadvantaged communities of the city. Member companies are organizing apprenticeship, job training, and hiring programs aimed at communities of color, including students at the City University of New York. They are investing in incubator programs and venture funds targeted at diverse entrepreneurs. They are promoting volunteer efforts by their employees aimed at increased civic awareness and engagement.
Our Work in Civic Engagement and Corporate Responsibility
PROGRAMS
Homeless Assistance Fund
New York City Mayor Eric Adams and the Partnership for New York City recently launched the Homeless Assistance Fund — a collective public-private initiative to provide services and mental health resources to New Yorkers experiencing homelessness. The Homeless Assistance Fund is partnering with Breaking Ground, a homeless outreach and housing nonprofit, to accelerate getting unsheltered New Yorkers and individuals living with mental illness into the treatment programs and housing they need.
Learn more
PROGRAMS
David Rockefeller Fellows
Since 1988, the David Rockefeller Fellows program has been providing a civic leadership development opportunity for senior business executives from Partnership member companies. During the 12-month program, executives nominated by their CEO participate in a series of meetings with leaders from government, business, and the nonprofit sector to learn how the city works and how problems get solved. Alumni, of which there are currently over 400, become part of the expert network that supports the Partnership's policy and program objectives.
Learn more
PROGRAMS
Career Discovery Week
The New York City Public Schools and the Partnership for New York City partnered to launch the city's first-ever Career Discovery Week in 2020. Returning for its second year in 2023, over 85 of the city's major employers are joining forces to provide a full day of programming for 2,500 tenth-grade public high school students to learn about future job opportunities available to them.
Learn more
PROGRAMS
Small Business Resource Network
The Small Business Resource Network (SBRN) provides small business owners with easy access to public and private sources of funding and technical assistance. The SBRN is a joint initiative with the Peter G. Peterson Foundation, the New York City Economic Development Corporation, and the five borough Chambers of Commerce. Since its launch in 2020, it has connected with over 25,000 small businesses, mostly minority and immigrant-owned, and channeled aid from government and expert volunteers, many of whom come through Partnership member companies. With corporate funding, the SBRN launched "Open + Online" to help small businesses gain e-commerce capabilities to better compete in the accelerated digital economy.
Learn more
PROGRAMS
Corporate Social Responsibility Network
The Partnership convenes cross-industry thought leaders in Corporate Social Responsibility (CSR), Philanthropy, ESG, and Human Resources for roundtables and working groups to identify CSR priorities and make recommendations on collaborative initiatives in areas such as education, workforce development, diversity and inclusion, and entrepreneurship.
PROGRAMS
Every Vote Counts
In October 2019, the Partnership launched the most comprehensive survey of the city's private sector employees. The results indicated that the employees of Partnership member companies want to be more involved in local civic affairs. The Partnership works with more than 200 member companies to carry out a voter education and mobilization campaign "Every Vote Counts," providing information on key voter deadlines, ranked choice voting, poll sites, and candidate debates. These efforts contributed to the largest voter turnout in the June 2021 municipal primary since 1989.
The Partnership leads and supports many cross-sector industry groups focused on investing in new businesses, providing mentorship to entrepreneurs and innovation in healthcare. 
This report chronicles the impact to date of COVID-19 on New York City and the metropolitan region. It offers suggested actions to mitigate the damage of the pandemic and to forge a new value proposition for the city.
July 2020
Read report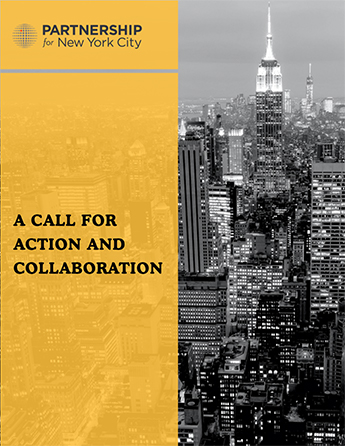 The following document, produced with the help of Oliver Wyman, identifies areas where Partnership members can work together to expand educational and economic opportunities for all New York City residents.
December 2018
Read report