CHALLENGES
A city is only as great as its basic infrastructure. New York's accelerated pace of growth across the five boroughs has outpaced the modernization and expansion of its public transit system. Similarly, upgrading of New York City's airports, roads, housing stock and resiliency systems have lagged the growth in population and economic activity across the five boroughs. A combination of public sector resources and private expertise and investment are required to improve and maintain the city's built environment and its basic infrastructure.
OPPORTUNITIES
Public-private partnerships (P3's) are the key way to modernize infrastructure and the Partnership has been a leading advocate for bringing the P3 approach to meet the city and state infrastructure challenges, starting with affordable housing and continuing with bridges, airports, transit and resiliency. Today, Partnership members are working with all levels of government to advance the modernization of transit, increase the housing stock, and insulate the city against rising sea levels and extreme weather. And, to slow down the effects of climate change, the Partnership network worked with the city and state to enact legislation to accelerate the transition to renewable energy from fossil fuels and to mandate energy and emissions standards for large buildings.
$20B
The Port Authority of New York and New Jersey and New York state are leading over $20 billion of investments to rebuild LaGuardia Airport and upgrade John F. Kennedy International Airport.
$1.5B
Congestion pricing has been approved for the Manhattan central business districts, estimated to raise $1.5 billion for transit and reduce the $20 billion annual cost to the region's economy due to excess congestion.
Our Work in Transit and Infrastructure
ADVOCACY AND PARTNERSHIPS
Transit Innovation Partnership
The Transit Innovation Partnership is a public-private initiative launched by the Metropolitan Transportation Authority and the Partnership for New York City with a mission to make New York City the global leader in public transit. An advisory board of leaders from academia, business, civic organizations and government guides the Transit Innovation Partnership, which brings together diverse stakeholders to realize public-private programs that improve public transportation through technology and process innovation.
Learn more
PROGRAMS
Transit Tech Lab
The Transit Tech Lab is a program of the Transit Innovation Partnership that allows the MTA and other public transportation agencies to explore innovative, private sector solutions to challenges they face in operating the region's subway, bus and commuter rail services. Companies participate in an 8-week accelerator and, if successful, advance to a one-year pilot. The Transit Tech Lab is designed to speed up the modernization of transit operations and improve customer experience through the strategic deployment of emerging technology.
Learn more
ADVOCACY AND PARTNERSHIPS
Congestion Pricing
Following over a decade of advocacy, the Partnership helped get the nation's first congestion pricing zone approved by the state Legislature. Congestion pricing is anticipated to increase peak period traffic speeds in the central business district by at least 15% and generate up to $1.5 billion a year to help fund modernization of the transit system. Legislation authorizing the plan was passed as part of the New York state 2019-2020 budget, reflecting the work of two commissions supported by the expertise of the Partnership and its members.
To secure enactment of the zone, the Partnership ran a public education campaign and commissioned an analysis conducted by EY that demonstrates the economic impact of the MTA Five Year Capital Plan, which is projected to generate more than $60 billion in statewide economic output and over 57,000 jobs. 
ADVOCACY AND PARTNERSHIPS
Design-Build
The Partnership joined labor, trade and business groups in backing expanded design-build authority for New York City, which was authorized by the state in late 2019. Localities can now use this streamlined method of public procurement and contracting to save time and money through a single bid process. With expanded design-build authority, New York can more efficiently invest in its infrastructure and shave hundreds of millions of dollars from the city's 10-year capital plan and years to project timelines.
ADVOCACY AND PARTNERSHIPS
Gateway Program Development Corporation
The Partnership for New York City advises the Gateway Development Corporation by sharing the impact of the infrastructure projects on New York City's business community and economy. The Partnership provides testimony at board meetings and public comment at press conferences in support of the Hudson River Tunnel project and Portal North Bridge. These infrastructure projects are vital to New York City as 330,000+ commuters cross the Hudson River each day on public transit. This heavy traffic means that for every hour of delay on NJ Transit, city employers incur $7.4 million in losses.
ADVOCACY AND PARTNERSHIPS
Commercial Waste Reforms
The Partnership was an early supporter of the city's plan to transition commercial waste collection to a zoned system to address inefficiencies, congestion and safety and environmental concerns. The Department of Sanitation will create 20 zones throughout the city and select up to three carters to operate in each zone. An additional city-wide zone with up to five carters will be created for large properties where containers are filled at one stop and go directly to a waste transfer station. The zoned system is expected to be fully implemented by 2022. It will help the city achieve environmental goals, create standards for worker safety and encourage increased investment in recycling and clean trucks.
The Partnership leads and supports many cross-sector industry groups focused on infrastructure investment and reaching the city's environmental goals to combat the climate crisis. 
An independent analysis of MTA's next estimated Capital Plan reveals $60 billion contribution to new jobs and business activity in New York state; $15 billion outside of New York City.
March 2019
Read report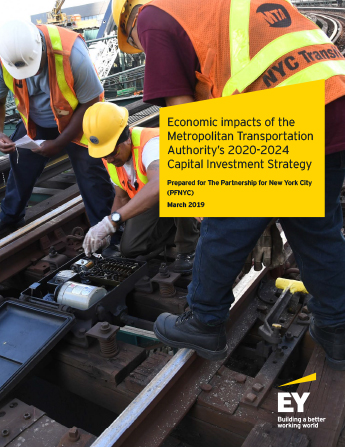 New York's aging transportation infrastructure needs $100 billion+ in modernization, service improvements and expansion.
February 2018
Read report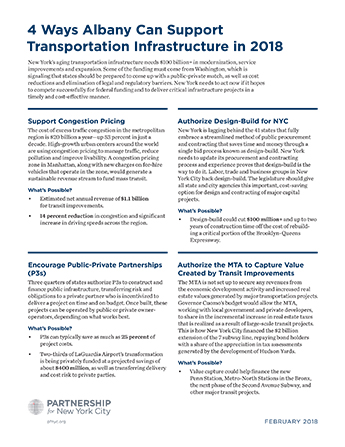 Traffic congestion will be a $100 billion drag on the New York metro area economy over the next five years unless something is done to discourage cars and trucks from crowding streets and highways of the region during the busiest times of the day.
January 2018
Read report